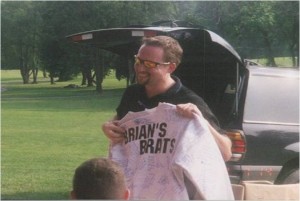 On April 15, 2010, the education community lost one of its most inspiring leaders. Brian K. Betts, a consummate teacher, devoted son, and loyal friend, worked on the front lines of then Chancellor Michelle A. Rhee's campaign to reform DC schools. In only his second year on the job, he was emerging as one of the school system's most innovative principals. In his two short years at Shaw, Mr. Betts transformed the school and changed the lives of his school family.
Prior to coming to DCPS and Shaw, Mr. Betts worked for Montgomery County Public Schools in MD for 19 years as a teacher, coach, department chairperson, team leader, and assistant principal.
"He was an inspirational leader for the teachers and for the students, and that leadership was bringing results. He knew what the children under his care were capable of, and he was determined to show them how to get there. Brian Betts' death is an incredible loss of a young and dedicated school leader," lamented Michelle Rhee, chancellor of the Washington D.C. public school system from 2007 to 2010.

Foundation Chairperson: Doris J. Betts
Co-Chairperson: Jennifer Betts Altomare
For more information about the Brian K Betts Foundation, contact us.