2016 College Connection Trip to Duke University
DURHAM – On February 1, seven students from Hart Middle School in Washington, DC visited Duke's campus via an educational enrichment program provided by the Brian K. Betts Foundation (BKB).  The BKB Foundation continues the legacy of Brian K. Betts, a passionate advocate for children's education, through its College Connection Program.  BKB's College Connection Program brings middle school students from underprivileged communities on university visits to campuses across the east coast.  This program is designed to inspire students to strive for excellence and to better appreciate the importance of education.  The 4th annual College Connections program included a campus visit to Duke.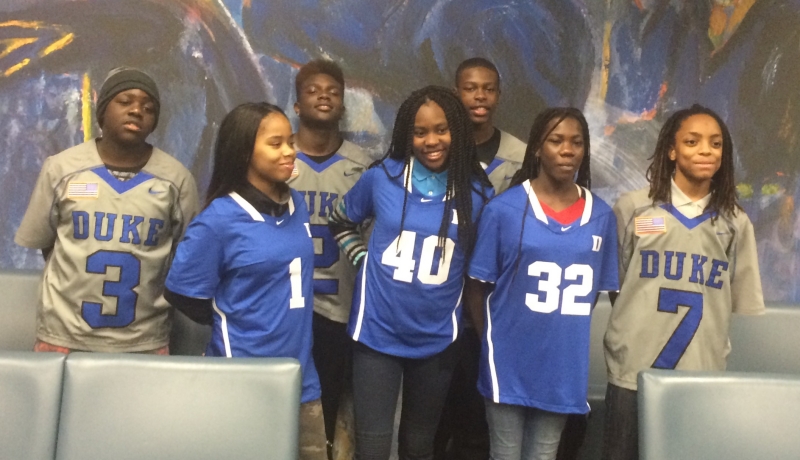 The seven Hart Middle School students were Tone'ya Cheadle, Tyray Perkins, Helen Johnson, Marcus Vick, JaQuan Blake, Reynard Alexander, and Deonte McGriff.  They traveled to Durham on Sunday and met with members of the BKB Board for dinner.  Their visit continued on Monday, with the day beginning with a tour of the athletic facilities.  This tour included watching an offseason workout of the Duke Women's Volleyball team in the Murray Building, followed by tours of the Yoh Football Center, Cameron Indoor Stadium, and the Krzyzewski Center.  Afterwards, each student was partnered with a current Duke student-athlete to shadow for part of the day.  The student-athletes who volunteered their time as mentors include: Alyssa Chillano (Field Hockey), Track and Field's Megan Clark, Urina Harrell, and Chaz Hawkins (Track & Field), and Duke Football's Zavier Carmichael, Cody Robinson, and Chris Taylor (Football).  The mentors took their mentees to a class, toured campus, as well as ate lunch before the middle school students departed for an Admissions and Leadership enrichment session.
During the Admissions and Leadership enrichment session, Sam Carpenter from the Duke University Admissions Office discussed what the admissions process is like for prospective students and what it would take to attend Duke University.  Afterwards, each middle school student created a vision board.  Their vision board focused on what makes them happy and what they want to achieve in life.  Their visit concluded by cheering on the Duke Women's Basketball Team as they took on #3 ranked Notre Dame.  Helen Johnson, A Hart Middle School student, whose goals include attending an Ivy League School, stated BKB's College Connections trip helped her understand that she "needs to work hard to achieve her goals and stay focused on being herself."
After a phenomenal day of exploring the different aspects of life as a student at Duke University, the Hart Middle School students returned to their Washington, DC homes on Tuesday morning to work toward making their visions a reality.
Go Duke!