COLLEGE CONNECTION TRIP 2016: JOHNS HOPKINS UNIVERSITY
On April 13, 2016, a group of students from A. Mario Loiederman Middle     School participated in the second BKB Foundation sponsored College Connection Trip to Johns Hopkins University.
The day started with a DISC Leadership exercise that required the students to interact with each other and the host athletes. It worked as an excellent ice breaker, and was also a fun exercise for the students to learn a little bit about their characteristics and how they relate to leadership styles.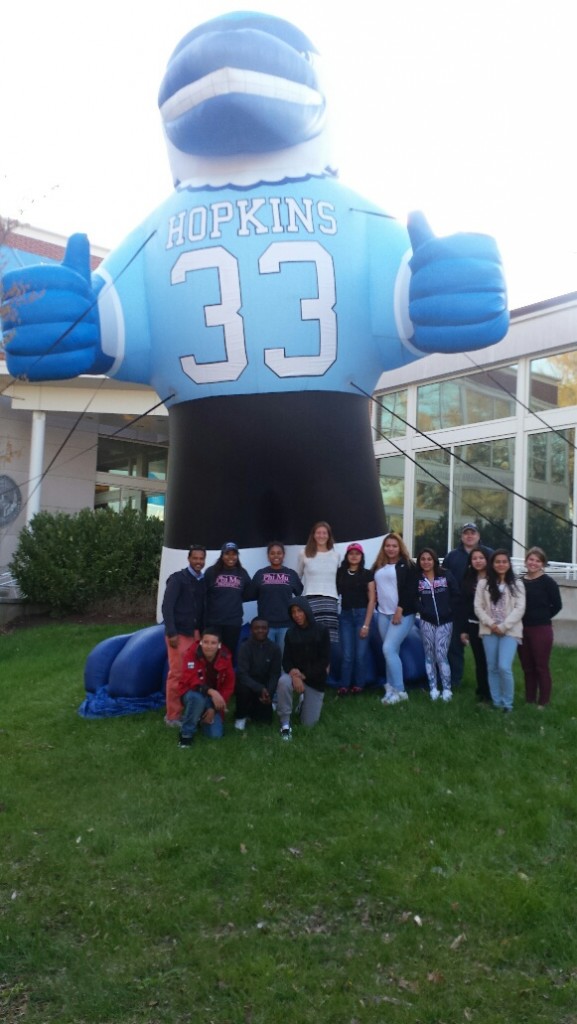 The students received a welcome and a message from Director of Athletics, Tom Calder, and then headed out to a Social Psychology class. The class was an excellent choice. The Professor was very engaging and the topic of the lecture (components of personal relationships) was one that the students could connect with, without being enrolled in the class for the entire semester. The lecture was in one of the larger lecture halls at the university and held a very large class. The professor even came by to see the group after the lecture to greet the students.
After the class, the students were treated to a tour of the university given by a student athlete who also was trained as a campus tour guide. She was very knowledgeable about the university and kept the group interested in all parts of the campus.  They were able to tour a dorm room in one of Hopkins Freshman dorms. After the tour, they were taken to the dining hall for lunch with the student athletes. There was a good bit of interaction between the group of students and several of the athletes during lunch.
After lunch, they had a tour of the athletic facilities, including the recreational sports facilities and the pool. They then visited the turf fields at Homewood as well as the baseball field. After the tour, the group got some down time in the Student Athlete Lounge and made posters for the lacrosse game. The students attended the lacrosse game at Homewood field before having a pizza party and departing for home.
It was a full day, but a very good day. At the end, when asked about the highlight of the day, the answers were detailed and varied across most of the events of the day.
A special thanks to Kelsie Gory of Johns Hopkins University and Mr. Mike Cosgrove, the BKB Foundation for Educational Enrichment representative, for making this College Connection Trip so successful and informative for the students.