A fun filled evening was had by all who attended the second BKB Bowling For Students Fundraiser in Manassas, VA on August 13, 2016. Stonewall Jackson High School was represented again this year, as well as Neelsville and Loiederman Middle Schools.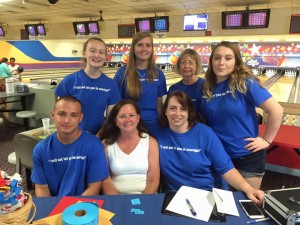 We want to thank Cathy and her staff at Bowl America Bull Run for the excellent service we received.  It was a pleasure to work with them again.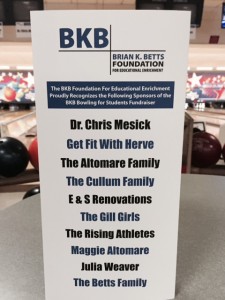 A very special thank you to our lane sponsors – we appreciate your support so very much. Our sponsors were: Get Fit With Herve, The Rising Athletes, Dr. Chris Mesick, E&S Renovations, Maggie Altomare, Realtor, The Gill Girls, The Cullum Family, Julia Weaver, The Altomare Family and The Betts Family.
For all of you who joined us on August 13th, thank you very much.  Also, thanks to all who made donations to the BKB Foundation for Educational Enrichment during this event.  We appreciate your support!!
Two of Brian's close friends, Doug Nelson and Vinny Cousineau, bowled "remotely" from Chicago on the day of the event.  They raised more than $1,000 to support the initiatives of the BKB Foundation.  Our heartfelt thanks go out to Doug and Vinny and everyone who sponsored them for the bowling fundraiser.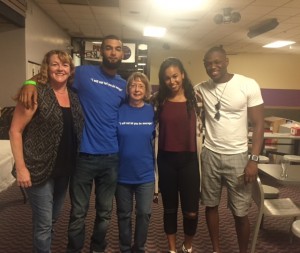 Looking forward to seeing everyone again next year!  Let's make the third BKB Bowling For Students Fundraiser the best ever.  We will let you know when a date has been set for next year, so everyone will have sufficient time for planning purposes.